Rocket Broadcaster 1.1.8 Released
We're pleased to announce the release of Rocket Broadcaster 1.1.8! This is a cumulative update adding new ways to ingest metadata and offers some compatibility improvements as well.
PRO

Capture Metadata over TCP

Other software applications can now directly update your stream's metadata automatically and remotely using the new TCP metadata server.
PRO

Capture Metadata from a Text File

Stream metadata can now also be read from a text file, which can be updated by scripts or other radio automation software.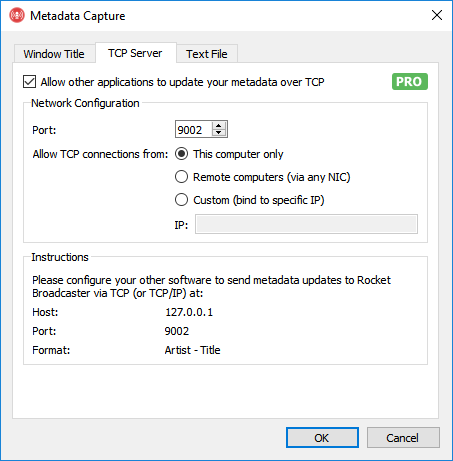 PRO

AAC and AAC+ Encoder

To support you in operating your radio station legally, we're pleased to announce this release includes licensed AAC and AAC+ encoders.
Other Recent Improvements and Bugfixes
1.1.8 - Improved error messages when loading invalid VST plugins.
1.1.8 - Icecast metadata improvement: Stream genre and description are now configurable on a stream-by-stream basis.
1.1.8 - Added 56 kbps as a supported bitrate.
1.1.7 - Windows XP compatibility (unsupported, but it works).
1.1.7 - Added command-line options. Run rocketbroadcaster.exe --help for usage.
1.1.5 (April 2017) - Fixed compatibility with 32-bit Windows. Previously, 32-bit users would be unable to connect to Icecast or SHOUTcast.
1.1.5 - Fixed an issue causing instability with long window titles.
1.1.4 - Fixed "Other Applications" audio slider not syncing with system volume level at startup.
1.1.4 - Removed support for ASIO due to buggy drivers and the ASIO SDK causing instability. Microsoft's WASAPI audio API provides a low-latency, stable experience for every broadcaster, and we stand by it.
1.1.3 - Improved compatibility with PCs where "Other Applications" audio is unavailable.
1.1.2 - Improved compatibility with certain VST plugins.
1.1.2 - Fixed a bug connecting to Icecast servers using passwords that include punctuation.
Download the Update
Free Edition - Download the latest update here!
Pro Edition - If you're a Pro Edition user, click the download link in your registration email again to get the latest update.
Once again, we owe a great deal of thanks to all the users who've sent in feedback and error reports. Your feedback helps us improve each version of Rocket Broadcaster and drives development of new features, and I look forward to hearing more!